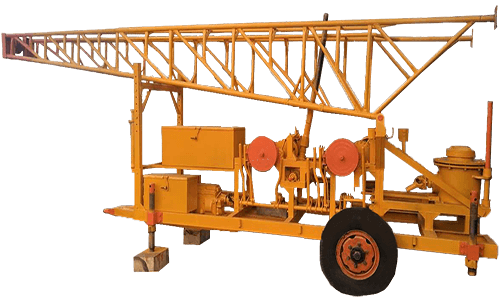 RDS-100 Rotary Trolley Mounted Drilling Rig
Type: Mechanical
Work on: Soil and Sands
Capacity: 75mm(3 inch) to 600mm(24 inch) dia bore hole up to 100-150 Meter (300-450 foot)
Machine for Use: Water Well Drilling, Pile Foundation, Soil Testing and Geo technical Drilling
Work method: Rotation with tractor pto drive shaft, soil cutting out by water
RDS-60 Mini Rotary cum DTH Trolley Mounted Drilling Rig
Type: Full Hydraulic
Work on: Soil, Sands and Hard Rock
Capacity: 75mm(3 inch) to 300mm(12 inch) dia bore hole up to 60-80 Meter (200 foot)
Machine for Use: Geo technical Drilling SPT UDS , Diamond Core Drilling, Water Well Drilling
Work method: Rotation with tractor pto drive shaft, soil and rock cutting out by water and Air
RDS-110 Mini Rotary cum DTH Trolley Mounted Drilling Rig
Type: Mechanical Plus Hydraulic
Work on: Soil, Sands and Hard Rock
Capacity: 75mm(3 inch) to 300mm(12 inch) dia bore hole up to 100-110 Meter (300 foot)
Machine for Use: Geo technical Drilling SPT UDS , Diamond Core Drilling and Pilling Drilling
Work method: Rotation with tractor pto drive shaft, soil and rock cutting out by water and Air
RDS-150 Rotary cum DTH Tractor Mounted Drilling Rig
Type: Full Hydraulic
Work on: Soil, Sands and Hard Rock
Capacity: 75mm(3 inch) to 300mm(12 inch) dia bore hole up to 100-150 Meter (300-400 foot)
Machine for Use: Water well Drilling, Geo technical Drilling, Diamond Core Drilling and Pilling Drilling
Work method: Rotation with tractor pto drive shaft, soil and rock cutting out by water and Air
RDS-200 DMR Rotary Truck Mounted Drilling Rig
Type: Mechanical
Work on: Soil and Sands
Capacity: 75mm(3 inch) to 1200mm(48 inch) dia bore hole up to 180-200 Meter (500-600 foot)
Machine for Use: Pile Foundation, Pile Drilling and Water Well Drilling
Work method: Rotation with engine shaft, soil cutting out by water and Air
RDS-300 Rotary cum DTH Trolley Mounted Drilling Rig
Type: Mechanical Plus Hydraulic
Work on: Soil, Sands and Hard Rock
Capacity: 75mm(3 inch) to 800mm(32 inch) dia bore hole up to 250-300 Meter (800-900 foot)
Machine for Use: Water well Drilling, Geo technical Drilling, Diamond Core Drilling and Pilling Drilling
Work method: Rotation with engine shaft, soil and rock cutting out by water and Air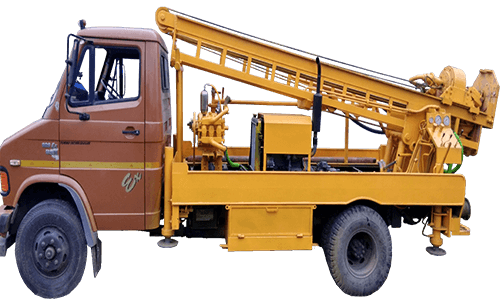 RDS-300 Rotary cum DTH Truck Mounted Drilling Rig
Type: Mechanical Plus Hydraulic
Work on: Soil, Sands and Hard Rock
Capacity: 75mm(3 inch) to 800mm(32 inch) dia bore hole up to 250-300 Meter (800-900 foot)
Machine for Use: Water well Drilling, Geo technical Drilling, Diamond Core Drilling and Pilling Drilling
Work method: Rotation with engine shaft, soil and rock cutting out by water and Air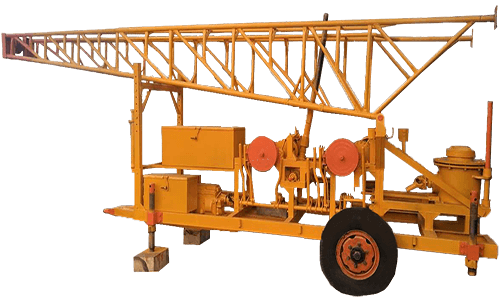 RDS-100 Rotary Trolley Mounted Drilling Rig
Type: Mechanical
Work on: Soil and Sands
Capacity: 75mm(3 inch) to 600mm(24 inch) dia bore hole up to 100-150 Meter (300-450 foot)
Machine for Use: Water Well Drilling, Pile Foundation, Soil Testing and Geo technical Drilling
Work method: Rotation with tractor pto drive shaft, soil cutting out by water
Type: Full Hydraulic
Work on: Soil, Sands and Hard Rock
Capacity: 75mm(3 inch) to 300mm(12 inch) dia bore hole up to 60-80 Meter (200 foot)
Machine for Use: Geo technical Drilling SPT UDS , Diamond Core Drilling, Water Well Drilling
Work method: Rotation with tractor pto drive shaft, soil and rock cutting out by water and Air
RDS-60 Mini Rotary cum DTH Trolley Mounted Drilling Rig
RDS-110 Mini Rotary cum DTH Trolley Mounted Drilling Rig
Type: Mechanical Plus Hydraulic
Work on: Soil, Sands and Hard Rock
Capacity: 75mm(3 inch) to 300mm(12 inch) dia bore hole up to 100-110 Meter (300 foot)
Machine for Use: Geo technical Drilling SPT UDS , Diamond Core Drilling and Pilling Drilling
Work method: Rotation with tractor pto drive shaft, soil and rock cutting out by water and Air
RDS-150 Rotary cum DTH Tractor Mounted Drilling Rig
Type: Full Hydraulic
Work on: Soil, Sands and Hard Rock
Capacity: 75mm(3 inch) to 300mm(12 inch) dia bore hole up to 100-150 Meter (300-400 foot)
Machine for Use: Water well Drilling, Geo technical Drilling, Diamond Core Drilling and Pilling Drilling
Work method: Rotation with tractor pto drive shaft, soil and rock cutting out by water and Air
RDS-200 DMR Rotary Truck Mounted Drilling Rig
Type: Mechanical
Work on: Soil and Sands
Capacity: 75mm(3 inch) to 1200mm(48 inch) dia bore hole up to 180-200 Meter (500-600 foot)
Machine for Use: Pile Foundation, Pile Drilling and Water Well Drilling
Work method: Rotation with engine shaft, soil cutting out by water and Air
RDS-300 Rotary cum DTH Trolley Mounted Drilling Rig
Type: Mechanical Plus Hydraulic
Work on: Soil, Sands and Hard Rock
Capacity: 75mm(3 inch) to 800mm(32 inch) dia bore hole up to 250-300 Meter (800-900 foot)
Machine for Use: Water well Drilling, Geo technical Drilling, Diamond Core Drilling and Pilling Drilling
Work method: Rotation with engine shaft, soil and rock cutting out by water and Air
Type: Mechanical Plus Hydraulic
Work on: Soil, Sands and Hard Rock
Capacity: 75mm(3 inch) to 800mm(32 inch) dia bore hole up to 250-300 Meter (800-900 foot)
Machine for Use: Water well Drilling, Geo technical Drilling, Diamond Core Drilling and Pilling Drilling
Work method: Rotation with engine shaft, soil and rock cutting out by water and Air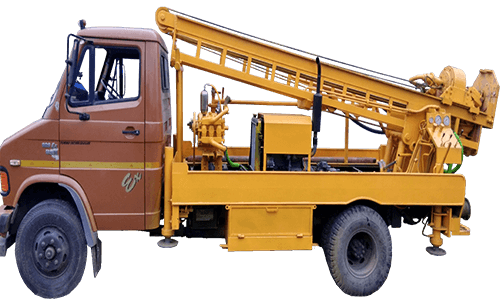 RDS-300 Rotary cum DTH Truck Mounted Drilling Rig
              RDS Engineering Drilling Rig Manufacturers has a multi purpose dth cum rotary drilling for the following application water well drilling, dth drilling, borewell, tubewell, geo technical drilling, soil rock investigation, soil testing, diamond core drilling, mineral exploration, auger drilling, piling large dia bore hole and pole drilling.
              We are involved in manufacturers and trading suppliers of truck mounted drilling, mini truck mounted, trolley mounted, mini trolley mounted, tractor mounted, customized portable, rotary drilling, fully hydraulic drilling rig and hydraulic + mechanical. equipment rods line, All type drilling rig spare parts and drilling bits. These equipment have high drilling speed, low maintenance, low fuel consumption, automatic, semi automatic, It is easy to operate, compact balance structures.
            RDS Engineering Drilling Rig Manufacturers have 30 years of experience in the drilling industry. We are one of the leading organizations that is engaged in manufacturing, supplying and exporting Wide range of drilling rigs. All our products are manufactured using excellent quality material that is sourced from most trusted vendors of market. Our reasonably priced range is extensively used in multi-national engineering and mining industries.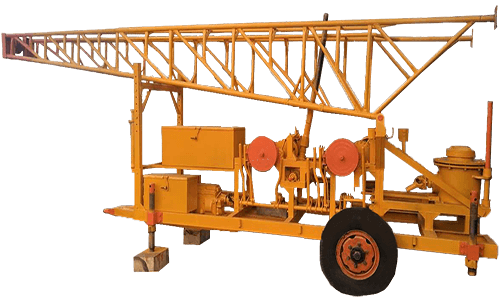 Capacity: 75mm(3 inch) to 600mm(24 inch) dia bore hole up to 100-150 Meter (300-450 foot)
Machine for Use: Water Well Drilling, Pile Foundation, Soil Testing and Geo technical Drilling
Work method: Rotation with tractor pto drive shaft, soil cutting out by water
Work on: Soil, Sands and Hard Rock
Capacity: 75mm(3 inch) to 300mm(12 inch) dia bore hole up to 60-80 Meter (200 foot)
Machine for Use: Geo technical Drilling SPT UDS, Diamond Core Drilling, Water Well Drilling
Work method: Rotation with tractor pto drive shaft, soil and rock cutting out by water and Air
Type: Mechanical Plus Hydraulic

Work on: Soil, Sands and Hard Rock
Capacity: 75mm(3 inch) to 300mm(12 inch) dia bore hole up to 100-110 Meter (300 foot)
Machine for Use: Geo technical Drilling SPT UDS, Diamond Core Drilling and Pilling Drilling
Work method: Rotation with tractor pto drive shaft, soil and rock cutting out by water and Air
Work on: Soil, Sands and Hard Rock
Capacity: 75mm(3 inch) to 300mm(12 inch) dia bore hole up to 100-150 Meter (300-400 foot)
Machine for Use:  Water well Drilling, Geo technical Drilling, Diamond Core Drilling and Pilling Drilling
Work method: Rotation with tractor pto drive shaft, soil and rock cutting out by water and Air
Capacity: 75mm(3 inch) to 1200mm(48 inch) dia bore hole up to 180-200 Meter (500-600 foot)
Machine for Use: Pile Foundation, Pile Drilling and Water Well Drilling
Work method: Rotation with engine shaft, soil cutting out by water
Type: Mechanical Plus Hydraulic

Work on: Soil, Sands and Hard Rock
Capacity: 75mm(3 inch) to 800mm(32 inch) dia bore hole up to 250-300 Meter (800-900 foot)
Machine for Use:  Water well Drilling, Geo technical Drilling, Diamond Core Drilling and Pilling Drilling
Work method: Rotation with engine shaft, soil and rock cutting out by water and Air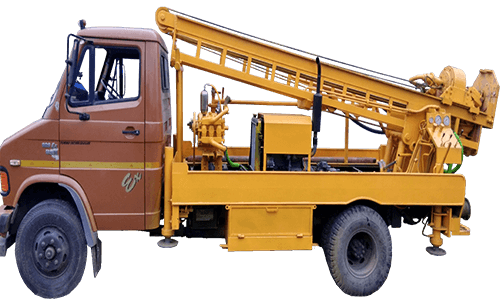 Type: Mechanical Plus Hydraulic

Work on: Soil, Sands and Hard Rock
Capacity: 75mm(3 inch) to 800mm(32 inch) dia bore hole up to 250-300 Meter (800-900 foot)
Machine for Use:  Water well Drilling, Geo technical Drilling, Diamond Core Drilling and Pilling Drilling
Work method: Rotation with engine shaft, soil and rock cutting out by water and Air
              Our customers are family. And we support our family with whatever they may need, whenever they need it. Trying to determine which drilling rig best fits the job? Call us and we can guide you towards the best option. Our trained customer support team stands ready to assist you with whatever it is that you may need to keep your RDS drilling rig running like new. We have a fully stocked parts department to make that happen. Next day parts delivery will ensure that downtime is kept to a minimum and jobs get completed on time. RDS Drilling Rig Manufacturers and RDS Drilling Services